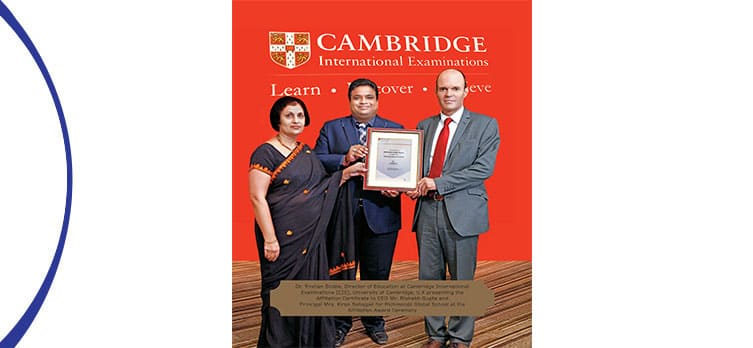 CAMBRIDGE EDUCATION PROGRAMME
University of Cambridge, UK, an 800 year old Research based University of England, is the World's Premier University. It has been ranked at 1st Position in various global surveys year after year. It is a great honour for Richmondd Global School to be affiliated with this prestigious institution. We are the 1st School in North and West Delhi and the 3rd School in the entire Delhi to earn this distinction.

Richmondd Global School is a part of the global network of Cambridge Schools offering Cambridge Education Programmes under Cambridge International Examinations, University of Cambridge, United Kingdom (U.K.). The school is following Cambridge Primary Curriculum and Secondary-1 Curriculum.

RGS follows Cambridge Education Programmes and Qualifications that have a proven reputation to prepare students for life by helping them develop an informed curiosity and a lasting passion for learning. These programmes and qualifications set the global standard for international education and are recognised by the world's best universities and employers, thus giving students a wide range of options in their education and career. They are created by subject experts, rooted in academic precision and reflect the latest educational research. They provide a strong platform for learners to progress from one stage to the next, and are well supported by teaching, learning and assessment resources.

RGS manages the educational needs of its students by providing internationally sensitive curriculum which prepares the students to pursue their higher studies abroad too. The Cambridge curriculum followed by our school is competitive with global trends and current pedagogical patterns. It facilitates learners to become global citizens for the future in the context of an emerging global village concept. The curriculum is learner-friendly and stress-free with skill based approach in teaching-learning process. It is an enquiry based curriculum that caters to individual learning styles and multiple intelligences in terms of learning, assessment, opportunities for research, extended learning and social empowerment.

We offer comprehensive support in four areas, designed carefully around the needs of Cambridge learners and teachers:

• Curriculum: develops learners' knowledge, understanding and skills. Our curriculum sets clear goals for learners and teachers.
• Classroom: support and guidance helps teachers and learners perform to their maximum ability. We offer world-class teacher and learner resources.
• Qualifications: provide learners with a global passport to success. We offer reliable, rigorous and flexible assessment, leading to internationally recognised qualifications.
• Community: brings Cambridge schools, teachers through the sharing of best practices and ideas.